Agria 9600/112
£24,490 +VAT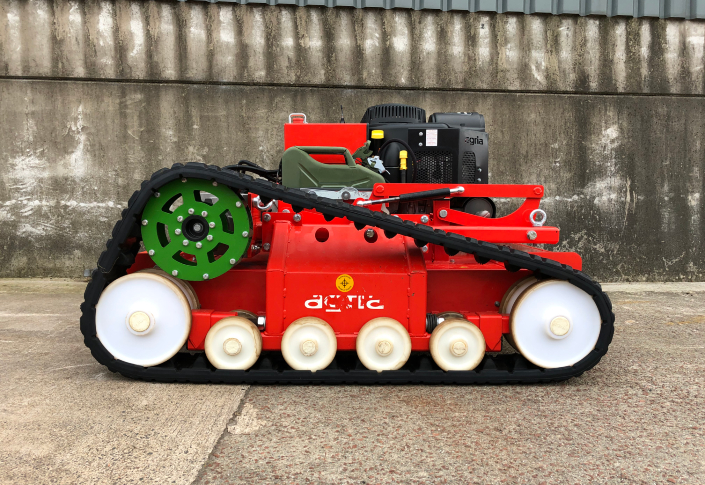 Equipment Description
The Agria 9600 is a petrol hybrid remote controlled slope mower powered by a 24.3 hp Briggs and Stratton v-twin commercial 4 stroke petrol engine. The machine uses stepless electric track drive rather than hydraulics meaning that it requires less maintenance. Capable of cutting steep banks up to 50 degrees, the 9600 is a high-performance slope mower that leaves an excellent finish in areas that are very difficult to access. The 9600 achieves mulching results of a high quality in both forward and reverse speeds.
Perhaps the greatest advantage of this machine is that it offers significant health and safety benefits to operators thanks to the fact that it is remote controlled. Operators are able to stand at a safe distance whilst the machine works in otherwise inaccessible areas, an added bonus of this set up is that operators stand far away from any vibrations or exhaust fumes. The machine is driven by tracks which offer excellent traction over rival machines that run on wheels.
Another selling point of this machine is its superb build quality, Agria has earned a reputation in the industry as a brand that represents robust design and great durability.
Machinery offered by Fairways Warehouse has to pass the Warehouse inspection which means that you can be assured that they are in good condition.
Summary
Stepless 48v DC Electric Track Drive
High Grass Rotary Mulcher
2 x Removable Fuel Cans for Easy Fuelling
2 x Blade Carriers - 4 Sickle Swinging Blades on Each
3 x Stepless Work/Travel Speed Ranges From 0 to 10 KPH
Cutting Width of 112 CM
Weight 480kg
Specifications at a glance
Make - Agria
Model - 9600/112
Year - 2017